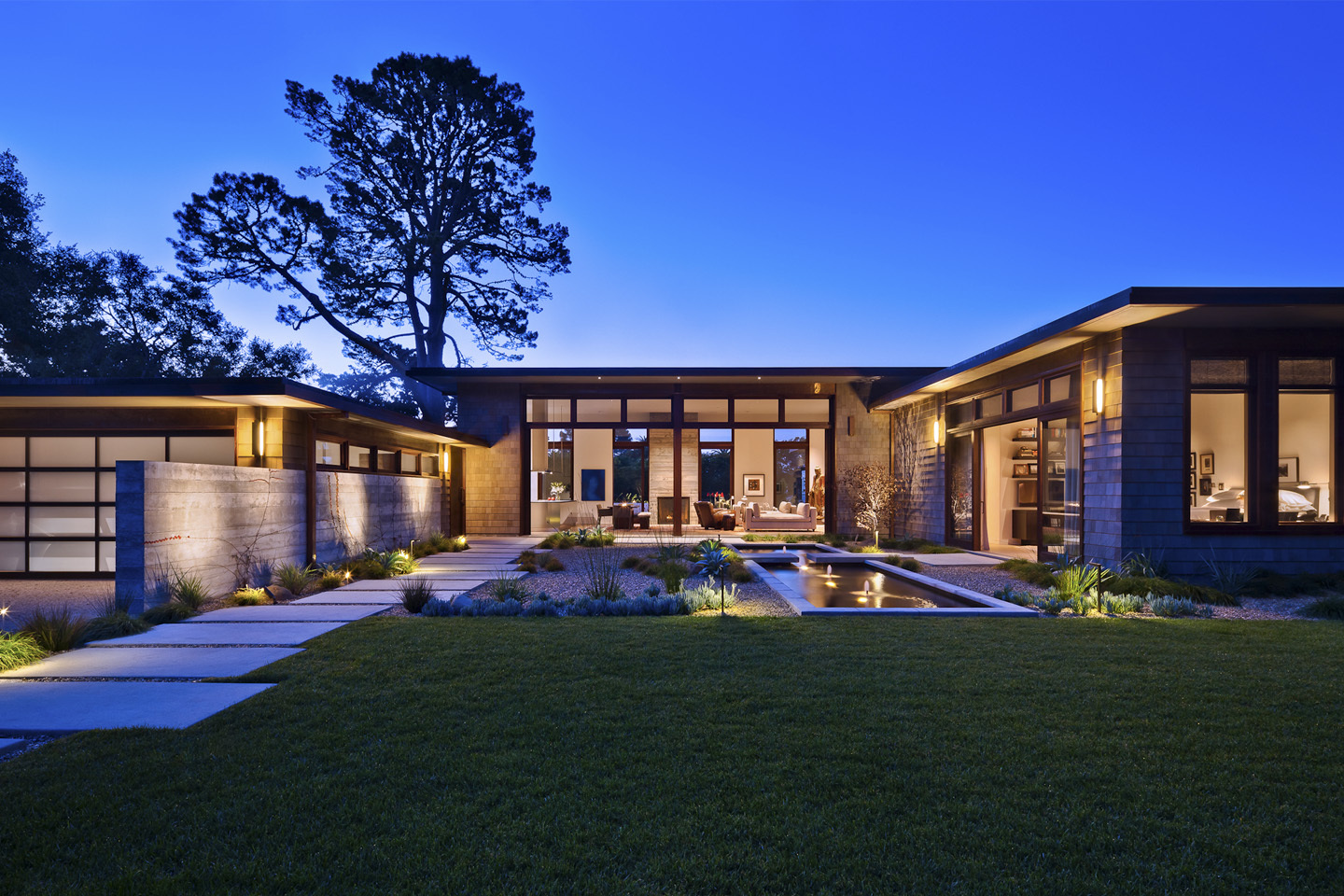 Dave Mendro and Mary Andrulaitis, principle partners of NMA Architects, have a trademarked motto: "Creating Your Sense of Place" —something they've been doing for clients for almost 30 years.
From day one, lead architect Dave Mendro, AIA, started with the notion of "quintessential California indoor-outdoor living" to create a unique sense of place for this Montecito abode.
"What I found to be most rewarding about our design for this home is the way people respond. Everyone who sees this house loves it. That's not the case with all our designs," admits Mendro. "Over the years many clients have preferred designs that have tended to be larger, more detailed, and more elaborate. This house strikes a chord with people."
Simplicity rules and a sense of calm prevail at the hedgerow home of Tom Thayer.
"We went with what is just essential. The resulting size, scale, and the understated feel of the home has everything for modern living, but it also has a Zen- like simplicity and elegance," Mendro said. "There is definitely something to be said for going back to the basics and focusing on the essentials."
Thayer wanted an open floor plan for the single story, H-shaped modern house, "without feeling cold." He also requested a nod to Cape Cod architecture (hence the shingles) for the three-bedroom, 3.5-baths, 2,800-square-foot living and entertaining space. Perhaps most importantly, the award-winning television and film producer wanted a retreat where, after hectic workdays, he could, "Come home and stop, turn off, and forget."
The house, thanks to building contractor, Rich Coffin, was built in an astonishing six months from groundbreaking to the certificate of occupancy.
Interior designer Micholyn Brown's carefully edited design is a perfect fit for the thoughtful architecture that incorporates wood, glass and formed concrete. Contemporary photography and art is balanced with Buddha statues from Nepal and Burma, alongside fascinating Houdini memorabilia collected by Thayer over the years. Textures also beckon, from the hewn walnut dining table and soapstone kitchen counter to soft leather chairs. Indeed, the space is quietly alluring. It doesn't yell, it whispers and invites.
"Micholyn said, 'Everything has to earn its weight,'" Thayer recalled of her paring down process, "It's almost like living on a boat. You can't hide or stash stuff."
The high ceiling, combination great room, dining and kitchen open floor plan was recently expanded with the addition of a spacious cantilevered wood and steel beam trellis designed by Mendro for the adjacent outdoor entertaining area.
"Tom's house if one of our favorite projects," noted Mendro, "Anyone would want to live here due to the simplicity and quality."
According to Mendro and partner Mary Andrulaitis, the architectural firm's basic philosophy and identity evolved organically over their many years of working together.
"We are always looking to get better at what we do," the duo agreed, over coffee at Pierre LaFond, adding, "We're never bored and always purposefully reinventing the wheel."
Case in point: It's not just about design, but what makes a house run. The firm is currently working on a "net zero" house on Padaro Lane (that has its fair share of power outages) utilizing battery backup power from SimplyPhi in Ojai that stores power and feeds it back to the grid at peak returns.
The firm uses a boutique approach, working from "the inside out" and taking advantage of the South Coast's stunning backdrop of mountains, sky and sea, and natural light. Initially, they look for the 'sweet spot' when planning a new design. They aim to understand the natural features of a building site — be it an oak grove or the Pacific Ocean. NMA also happily designs small remodels and additions.
"We go to a site, walk around, sometimes take a ladder and go up and down for height considerations and ask the client, 'Do you want this to be your home office or your outdoor living room? Where do you want your kitchen to face?' Every client and site is so different, and everyone comes with their own interesting collections and ideas," Mary said. "We like finding a way to fit the pieces of the puzzle together by coming up with design solutions. We are careful not to dictate. Some firms are known for certain style, we try to be responsive to our clients needs."
NMA's body of work run the gamut from traditional to modern; their goal is to create one-of-a-kind designs for each client. Computer 3-D models, illustrating what the design is going to be like, avoid any major surprises. And they have purposely remained a small-sized firm of eight, working out of an upstairs office on Carpinteria's main drag.
"We could take on more work and grow larger, but Mary and I want to be focused as designers and not just as managers. It's important to us to have the opportunity to work closely with our clients and to be fully engaged with them throughout the design process," Dave said, "We love architecture and the art of design. That's our priority. And, we have a great core group of staff that fully supports us in that endeavor."
Commercial projects have included QAD on Ortega Hill in Summerland, the Discovery Center for the Santa Barbara Zoo, and, forthcoming, the new Carpinteria ARTS Center. The firm aims to provide the design for a community project pro bono annually. This year they're donating the kitchen design for the Boy's and Girls Club on the Westside. Final pro bono plans for the Carp Arts Center is still ongoing.
"We all got into architecture to save the world," Dave laughed, "but this helps balance things and we are able to help in a genuine way."