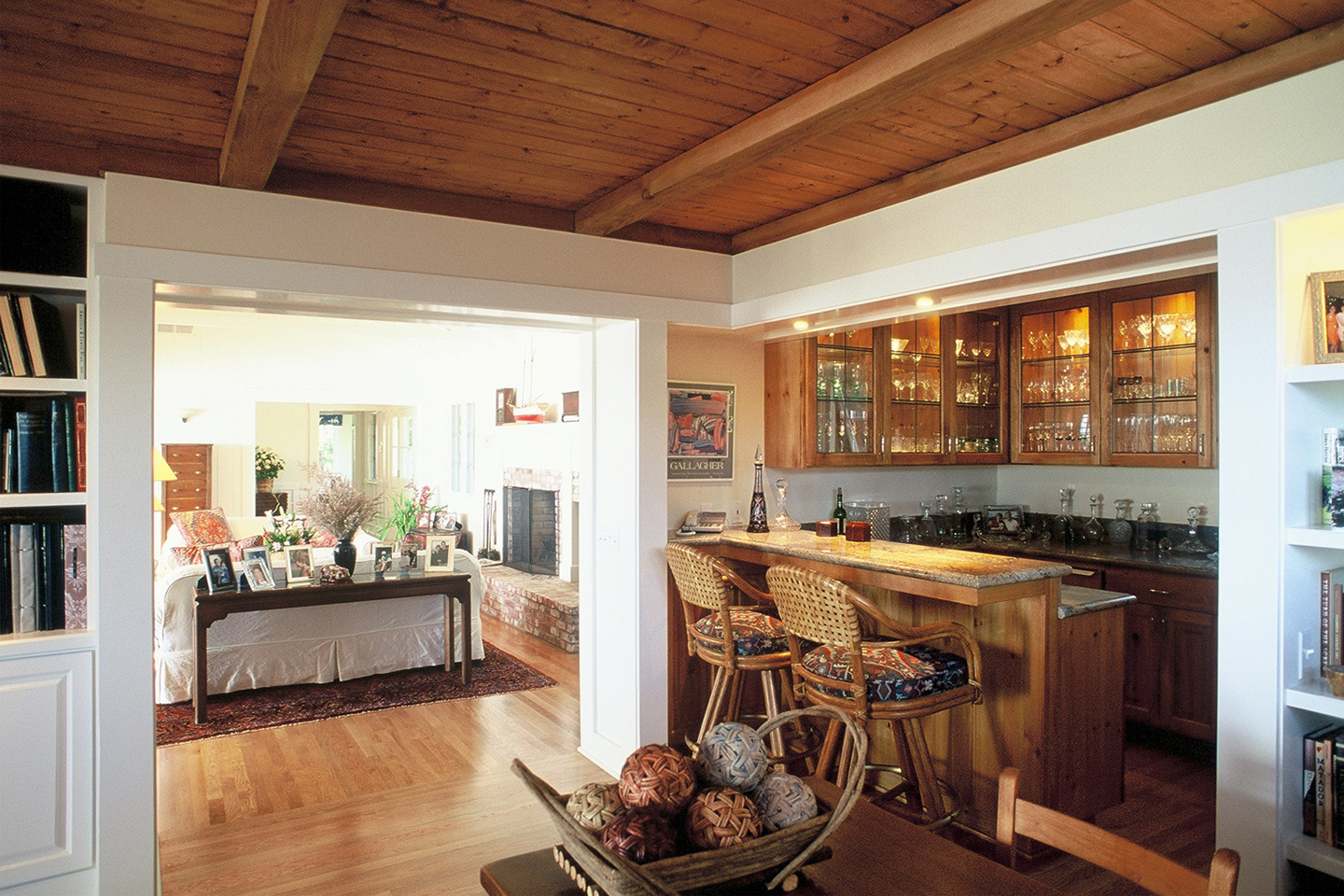 The idea of a family home by the sea has become almost obsolete in this time of beachside mega-mansions, but a mansion wasn't for Lucy and Don Hromadka. "We were not looking for a monolith," she says. "We knew we wanted a beach cottage."
This rendition of the California beach cottage is modest compared to most beach development in the area, just two bedrooms with a study, family room and sunroom. Perched on a cliff in Carpinteria, just south of Santa Barbara, their 3400-square-foot house has a classic design that combines comfort with incredible views from every window. Porpoises and pelicans are easily spotted from the patio, while sailboats head for Santa Cruz Island.
The Hromadkas were lucky because Lucy's parents had bought this bungalaw in 1969 so when the opportunity came for them to buy it from her parents, they jumped at the chance. The simplicity and the fact that the house hadn't been modernized were part of the charm. "We moved in 1992, and loved the site but we knew the house was too small for our family. My husband is an avid surfer and he knew fellow surfer, architect Andy Neumann. When we saw a house he had designed, we knew he was the architect for us."
"While it was a pretty extensive remodel, the original living room configuration, fireplace and ceiling remain as an ode to the original cottage," says Mary Andrulaitis of Neumann, Mendro, Andrulaitis Architects, LLP in Carpinteria, a firm that has worked on over eighty beach houses in this area.
This project was overseen by Mary Andrulaitis who opened up the house by expanding the space and letting in more light. "The houses needed to be updated, but also opened up to be more conducive to the California beach lifestyle," says Andrulaitis. "The outdoor terrace provides a shaded seating area and outdoor dining is a daily activity, weather permitting."
"This house captures the early California board-and-batten look that so many people like," says Neumann. Traditional finishes of board and batten walls and tongue-and-groove wood ceilings were maintained. Two small houses were on the property, so the Hromadkas lived in one while their house was being redone.
Today the main house is filled with soft texture and color and there is evidence of Lucy Hromadka's magpie instinct everywhere. "I call the design eclectic craziness," she says, laughing, something she does often. Everything works together happily through a continuity of soft sea and sky colors with splashes of red from the inherited living room rug. "Someday I may go through a beige period, but not now that we have a granddaughter."
Andrulaitis knew that the Hromadkas loved to entertain and wanted a house where guests could easily move from indoors to out. "We expanded the dining area by eight feet and added skylights and dormer windows to bring in more light," says Andrulaitis. A sunroom was added in the front of the house that is now Don Hromadka's office.
"The kitchen was very dark," says Lucy Hromadka. "We wanted a room that was spacious and that we could all cook together in." The kitchen was re-designed as the hub of the house with all the modern amenities, a desk area for Lucy and a small breakfast nook that can be closed off from the dining/living room when necessary for entertaining. "My favorite room is now the guest bedroom," says Lucy. It was created by adding four feet to the existing space. Both this bedroom and the master bedroom have inviting window seats for relaxing and looking at the view or reading. In the master bedroom the original fireplace was removed to capture a view to the Pacific.
The gentle color scheme of the house is a perfect backdrop for Lucy Hromadka's art collection. "Art that you like puts you in a good mood," she says. One of her favorite pieces is by a friend of theirs, Michael Gallagher, and it is in a place of prominence on the wall in the entry. In fact, this piece with its vibrant colors and abstract movement is a perfect welcome to the house.
"We're not indoors people," she says. "It was wonderful working with Andy and Mary. Their sensitivity to our love of the ocean, their practicality in understanding the need for openness and flexibility in the floor plan to raise two active boys and the pragmatism of utilizing an existing footprint but still satisfying our spacial needs was ever-present in our conversations during the design period. They were always available to make any minor changes that we needed. Doug Ford, our contractor, is a good friend as well and I'm always proud to enterain these fellas at our Super Bowl gathering. We all love this cottage by the sea."