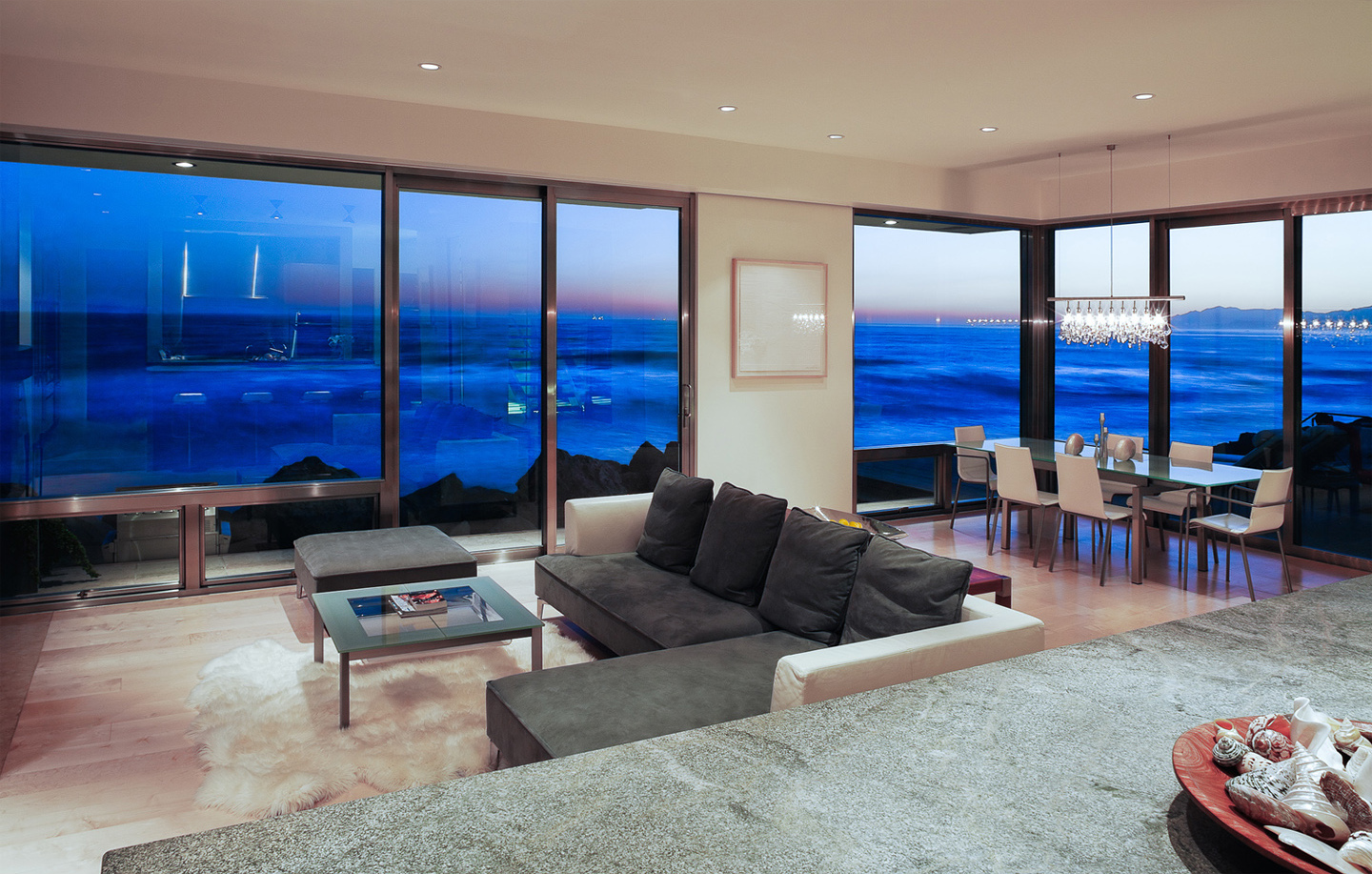 A seagull soars overhead. California shorebirds dance across the sparkling Pacific, while the winter sun sets in the distance. All this is enjoyed from a stunning pair of structures set directly on the sands of a Southern California beach.
The architectural achievement, a main house and guesthouse created for a family of five, is a testament to the talents of lead architect Andrew Neumann AIA of Carpinteria-based Neumann Mendro Andrulaitis. Neumann, one of California's most distinguished architects, is quick to share credit with partner Dave Mendro, project architect Bob Pester, architects of record, Zehren and Associates, as well as contractor Paul Franz.
A fine example of contemporary living, and a tribute to "less is more," this four bedroom, three bath main house and two bedroom guesthouse, was fashioned to take full advantage of the location. Many beach houses are built on narrow lots, resulting in a view straight out to the ocean with little chance to look up or down the coastline beyond the main living spaces and master bedroom. What made this project unusual is that it is situated on two separate parcels with the main house occupying one lot and the guesthouse the other. This creates a central private courtyard opening up views and light.
"The owners wanted clean, minimal space and to optimize the views," Neumann points out. "We always design from the inside out, so we started with the central courtyard and arranged rooms for the family from that criteria."
Neumann enjoys sharing ideas with his clients, which, he says, enriches and challenges his design work in new ways for each project. In this case, the owners' good tastes contributed to the minimalist interior design of the architecture. For the clients, an avid surfer and his family, the goals were met.
Interior and exterior glass walls take advantage of coastal views, yet privacy is afforded despite the feeling of openness and exposure. Frosted glass doors throughout keep the interiors light-filled as well.
"It was—as many beach lots are—a very small site," says Neumann, "Most coastal vistas from houses on this strip of sand are blocked by neighbors, yet we were able to allow views from even the back rooms of the house." Two of the children's rooms, in fact, have interior glass walls, so their parents can keep an eye on their youngest son, even if the shade is not drawn. In addition, the kitchen, set one step up from the combination living/dining room, allows a broad survey of the Pacific.
Important to the father was having the ability to check out his favorite surfing spot from his and his wife's bed. He not only got this, but an ocean-facing master bath as well. And the view works two ways: A long mirror over the double sinks reflects the oceanscape in panoramic splendor.
With a philosophy that "people are the most important design element," clients who work with Neumann Mendro Andrulaitis know that the architects take their needs into consideration first, and balance these considerations with design elements and the necessary technical challenges.
The firm has designed projects as far-ranging as Italy, Washington State, Hawaii and regional areas of Sonoma, along with many on the California coastline north of Santa Barbara. In some circles, Andy Neumann is known as a legendary surfer rather than an architect, so it is no surprise that he and his associates have worked on more than sixty beach houses, in addition to traditional canyon and town residences.